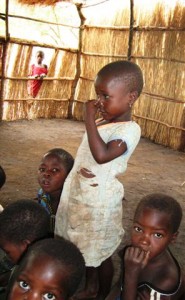 With Change In Mind is almost 30 days into our 90 day fundraising campaign. I have been asked a lot of great questions over the last month and wanted to share some of what you have been curious about.
Why does this project matter?
I wish the answer was simple, but it isn't. Over the course of many trips and through participating in many projects I have learned so much. One of the most important lessons I have learned is that a project is only as good as the impact that it creates going forward. I have also learned that helping, and offering knowledge are two separate things. It is important to me that each project ends up having incredible impact going forward .
This project has all of the layers that are needed to create "change". First, we will be teaching local villagers about the benefits of compost toilets. They will begin to learn that in using the resources they already have they can begin to move closer to self sustainability. Malawi is a place where agriculture is a main stay for many families. Villages are only able to eat when they are able to grow food. Growing food takes not just time and mother nature, but also money. Money for fertilizer isn't always something people have. Without proper fertilizer, crops can't flourish. Imagine how incredible it will be when these villagers learn that something like a compost toilet could potentially provide free fertilizer forever for their family! The learning that will happen as villagers come to watch and assist us with construction is going to be amazing!
Immediately after the project is complete, children who are currently attending kindergarten on the site will finally have a clean proper bathroom to use. Illness caused by unsanitary bathrooms or no bathrooms at all runs rampant in many developing countries. Children become sick simply from doing what we all need to do everyday. When proper medical care isn't available, those children can die. What we are creating is a clean, sanitary, proper facility for children and villagers to use. They will use these bathrooms while also taking advantage of the community soccer program, community netball program and the new kindergarten.
I got so excited last week when I received word that children had started attending kindergarten on the site. They are currently using an old barn to hold classes in. I was told that everyone was excited for my group to arrive since currently there is no place for the children to go to the bathroom. Knowing that little ones were waiting on my group was just the boost I needed to continue the fundraising effort.
Why does my donation matter?
People ask me all the time how each year I am able to raise the money needed for these projects. This time, the answer is simple. One dollar at a time. With Change In Mind is a small organization. We don't have any large companies or grants helping to fund the projects. What we do have is individuals just like you who want to find a way to make a difference. A $50, $25, or $200 donation could be the difference between this project being completed or not. I have always loved the Margaret Mead quote that says "A small group of thoughtful people could change the world. Indeed, its the only thing that ever has". The reason why I love this quote so much is because I have experienced the truth of it. It takes a group of people who are all committed to doing just a little bit. All of those "little bits" add up and in the end can create something that has the potential to CHANGE lives!
My goal was to get 50 $200 donations. I felt that was something I could achieve. I knew there must be 50 people who would want to have a hand in making this project happen. There must be 50 people who want to watch things happen over the next couple of months and get to experience what happens when "a small group of thoughtful people" set out to make a difference. I hope that by sharing my goal at the beginning of my fundraising campaign, I have not discouraged people from donating any amount they feel they want to. We are proud and honored by any donation we receive. If it is $10 you can give or $1000 please know that it is each dollar added together that will in the end change the lives of others and change the lives of those who donate. When you experience what it is to participate in something like this, you too will feel a change.
It is important for me to say that EVERY single dollar raised in the name of this years project will go DIRECTLY to completing THIS project. You can have confidence in the fact that this money will not be spent on operating costs, travel expenses etc….So please consider making a donation of any amount and join With Change In Mind on the journey of seeing this project through.
Thank you so much to those of you who have already generously donated to support this project. 7 states have been represented and I know more will follow soon. Please check on the project page of the website to see the map continue to fill.