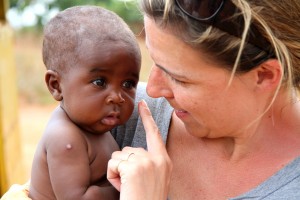 It doesn't seem possible that it has been a year since I set out to Malawi to complete the last project. Some days it seems like so long ago, and some days it feels like that experience is still so fresh in my mind.
This year is different than all of other years. It's different for many reasons, the biggest being that this will be the first time I travel to Malawi with With Change In Mind. My own organization. In the past I have either been a volunteer or a trip leader for another organization. The preparation has been similar, but also different. All the decisions have been mine to make. All of the successes and failures are mine to take responsibility for. 
A part of me thought this years trip would be "easier" than those in the past years. With this being my 9th journey to Malawi I thought that by now I had this process down and knew exactly what to expect. Well….just when you think you have it all figured out life reminds you that things are always changing.
Now that I am less than 30 days until departure you would think all the kinks would have been worked out and I would have a strong understanding of how the trip and the project are going to go. In the past I have had a folder filled with names and information from volunteers. I have had donation checks tallied up and on spread sheets. I have been busy answering questions from volunteers who are preparing for their first or second or even fourth trip to Malawi with me. I have been busy organizing schedules and flights and making sure everyone knows where to meet at the airport in Washington D.C..  But, not this year.
This year I am still scrambling to raise the funds I have committed to raise in order to complete the project that I have chosen to take on. I am not organizing a group of volunteers, I am only organizing myself and one other friend. As volunteers signed up for this trip and then fell off for one reason or another my list began to slowly dwindle. In my mind this was to be the "best trip ever". Realistically, it still may be. It certainly is shaping up to be quite different than any other trip and quite different than what I expected.
I have always said that I believe all things happen for reason and all things happen as they are supposed to. Whatever this journey has in store for me I am ready. I am at peace with whatever the outcome is. I am ready to take each day one at a time and figure out what it has to offer and in turn what I have to offer it. I will take in this experience as fully as I am able and will complete and accomplish what I have planned on in Malawi.
I have taken enough trips to know that there is something really special in store for me during the 2 weeks I will spend in Malawi. I have no way of knowing just what that thing is going to be, but I do know that whatever it is it will be life changing. That's the thing about taking a trip like this, you can take the same trip 100 times and each time you will learn something new about the place you go and the people you see. You will also undoubtedly learn new things about yourself. The past 12 months have been an incredible learning experience for me. I know whatever lessons Malawi has planned for me, this year I'm open to learning.
For those of you who have donated to this year's project, please rest assured I WILL complete it. Failure in that aspect is never an option for me. I am still raising funds and if you have not yet donated and wish to, please use the donate button here on the site. Thank you to everyone who has supported me in this past year. I sometimes am able to push forward not because I know I can, but because so many of you remind me that I can.