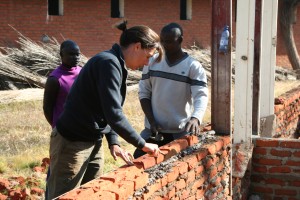 Day 2 of work is completed. We arrived shortly after 8 and worked until after 2pm. The morning was a bit chilly, but it didn't take long for the sun to begin to heat the job site. Another productive day. A few bumps in the flow of work, but everything managed to get sorted out. We were joined today by two 15 year old American boys who are visiting Malawi. Both of them needed some volunteer hours and our project being in close proximity to where they are staying provided a great opportunity for them and for us. It was great to have two extra sets of hands and also two more Americans that we could pass some time talking to.
We are lucky to have a group of five brick layers working with us who are Malawian. Even though they do this work for a living they sometimes need some guidance when it comes to being as productive as possible. Today I had to encourage them and organize the flow of work so that we could maximize the man power we had and get as much done as possible. Being the only woman on the job site all day poses some challenges in itself, but once I began trying to organize the work more challenges presented themselves. To put it simply….I'm not sure as of now I will make any of their Christmas card lists 🙂 Their main supervisor was not able to be at our job site today so some of the brick layers took that as a treat and thought today might be easier and less work would need to be done. I however am feeling the pressure to complete this project in our allotted time. In the end we all got down to work and ended the day on a high note (I hope). I thanked them all for their hard work and praised each of their talents. Hopefully I can be the "good guy" tomorrow and Phil can take his turn being the organizer (bad guy).
We are working on the same site as the new kindergarten so we get to see the little ones throughout the day. At one point a small group of them were peeking around the corner at us and waving. Once I waved back they all began to shout the Malawian words for "white person come here! Come here!" so I dropped my tool and ran towards them which lead to them all
screaming and laughing and running back around the corner. Of course as soon as I began to work again they all peeked around again and yelled for me to "Come here! Come here!" So this continued a few times. Me running and then them running the other direction. I decided the last time instead of going back to my work I would hide around the other edge of the school building and wait to hear them yell for me "abuella abuella Mzungu!" and then I popped out right in front of them. All of them laughing and screaming back around the corner. One small boy left standing alone crying 🙁 I think I scared him 🙁 I scooped him up and hugged him until he stopped. Then it was back to work. A sweet little diversion in the day.
Today I began to feel my body getting sore from all of the bending and lifting. Both Phil and I complained a bit about our lower back hurting. We pressed on knowing that the success of this project rests in our shoulders (and lower backs). After a hot shower we both felt better, but I can tell we are both a bit more tired and worn out than we were yesterday after work.
Last night we had a small occurrence. We were trying to stay awake past 8pm so we decided to play a game of cards. Phil came to play and said "there is something I should tell you, but I'm worried maybe I shouldn't….." of course this lead to me saying "well now you HAVE to tell me!"
Turns out he went to use the bathroom after dinner and once he he began to "go" two small bats came flying out of the commode. Now for Phil this was no big deal…..he happened to be standing….for me this posed a problem. I now had to think about the next time I had to "go" I might have bats flying up at me. I wouldn't be standing….I would be sitting….In the middle of the night I did have to "go" but decided since it wasn't an emergency I would just wait it out. Once I woke up this morning though I did really need to "go". I walked around the outside of my hut and collected a few small pebbles…walked in to the bathroom and stood staring at the toilet. Quickly I tossed in the first stone …..then the second…..nothing. I stood a bit longer….then I left. I walked around thinking about how I could spend the next 2 weeks not going to the bathroom. After deciding that wasn't possible I made my way back into the bathroom.. stood…..looked…..and then figured….I have no choice so I better get over it. I "went" without incident (which felt like an accomplishment).
Oh and the card game….i won both rounds 🙂 what I "supposedly won" was that Phil now has to check the toilet each time I have to go for bats 🙂 As I told you earlier though….that didn't happen this morning…..seems I didn't get my prize after all..