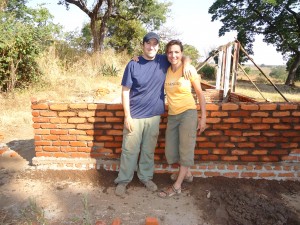 Our first day of work is complete! We are off to an incredible start. We both woke up refreshed this morning and actually to both of our shock slept much later than anticipated. We were to start work at 8am, but didn't wake up until almost 7:30. We enjoyed a lovely breakfast cooked just for us of eggs and toast with roasted tomatoes. We learned how to brew our own coffee so that tomorrow if we wake up early we can prepare it ourselves. I had my lesson first thing today and hope I can remember all of the steps necessary to handle the task myself.
Today we worked with a team of 5 brick layers and were taught how to lay the rows of bricks and check that each line was plum and perfect 🙂 We were told we were fast learners and that our work was better than expected! We didn't feel as though we made big progress, but looking at what was completed once our day was over were proud of the good work we had done.
Last night we went to bed early and over coffee this morning we told each other our stories of what we experienced through the night. It seems that my senses are heightened in comparison to Phil's. I heard every noise and was aware of most of what went on through the night. The crackling of leaves under the night watch mans feet as he patrolled the village, the bump bump of music from the bar far off in the distance and even the sound of the first rooster crowing from up the road before the sun had come up. All of these things Phil didn't hear. Turns out both of us were awake in the middle of the night and were both wondering what time it was. I don't have a clock, but at once point felt it was almost morning and became shocked when I looked at my mosquito coil and found it had not even burned half way. I must have slept hard for only a few hours and then woke thinking the night was almost over. If I had to guess it couldn't have been later than only 1am at that point.
I already had plenty to think about because we hit the ground running after picking up Phil from the airport yesterday at noon. Once we settled into the village and had a cold drink we headed out on our own and walked across the river to Adziwa to check out the kitchen last years group had built. Along the way we came across many kids who wanted us to stop and talk and play. We were sad we hadn't thought of carrying some "sweeties" with us, but promised the kids we would be back in the next day or so. We took a quick look at the kitchen and then said we would come back before our trip was over with the hope of seeing some of the people I couldn't find there since it was Sunday. The walk was great and we had a chance to talk about what we both hope to accomplish over the next 2 weeks.
There have already been some exciting plans being talked about and we are busy brainstorming all kinds of things. More to come on that when we complete this years project.
With only 2 of us working we have lots of time to talk and the work seemed to pass by very quickly. It was only the last hour when we both began to feel tired and sore from all of the bending and brick laying. We are sure tomorrow we will accomplish even more and both of us are excited to see the progress each day.
We have had our lunch and enjoyed a great hot shower. The day is winding down and we will walk up the hill with the hope of using the Internet so I can post this to the website.
Thank you to those of you who are sending prayers and good wishes our way. Things have started off well and we will do our best to continue to update everyone of our progress and adventures.