About Us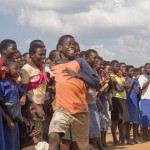 With Change In Mind is a non-profit organization offering short-term humanitarian adventures. We believe that when people give of themselves, great things happen. No matter how you give, what you give, or who you choose to give to, the rewards are endless. We take a unique approach to "volunteer vacations", we see these vacations as adventures where the change begins well before the trip and continues long after. For us the journey is what matters, not the destination.
These trips focus on service and offer volunteers an intense and immersive experience in a culture different from your own. We have found that you can't effectively serve others without a clear understanding of who you are serving and what their needs are. A portion of each adventure is dedicated to cultural education, which includes language lessons and a unique look at the local traditions and religions. We feel strongly that without adventure, and a little rest and relaxation, you will never fully appreciate the country and its surroundings. For some people this experience will be a once-in-a- lifetime adventure. With that in mind we want to give you the opportunity to understand the community and culture you will serve in as fully as possible. Regardless of where you choose to volunteer, there are incredible things to see and do. We provide a balanced volunteer vacation, which in turn provides you with wonderful memories of time and effort spent among new friends.
You will work on a project that is sustainable and that will have a lasting impact in the community. It is important that we leave something tangible behind when the trip is over. We strive to select projects that will have a positive effect on the future of the people we will live and work with on the trip.
Our founder Erin Hempen thinks Martin Luther King, Jr. said it best when he said "Everybody can be great because anybody can serve. You don't have to have a college degree to serve. You don't have to make your subject and verb agree to serve. You only need a heart full of grace. A soul generated by love." With Change In Mind is open to volunteers of all ages, all professions, and all walks of life. Each volunteer has something unique to offer. It is those gifts that combine to make each trip special. We have as much to learn from each other as we do from the people we come to serve. With each adventure we always have change in mind.
More information
With Change In Mind develops itineraries that create opportunities for our volunteers to truly immerse themselves in the local community and culture. Without learning and understanding, there can be no progress. We must above all understand who we wish to serve and how they live their everyday lives. We are visitors in a foreign place and understanding is the compass to all that we do. Learning is not just useful, but can also be fun. Listening to village elders talk about culture and tradition can sometimes lead to incredible collaborations on solutions for communities in need. We like to keep our volunteers on the edge of their comfort zones; putting them in situations that they may never have had the opportunity to be in. This can be challenging, but the benefits to this type of volunteering are impactful. We find that while communities benefit from our service the WCIM volunteers also gain so much. These experiences are life changing for everyone involved.
"Sustainable development is development that meets the needs of the present without compromising the ability of future generations to meet their own needs." - The United Nations
Sustainability is so important to With Change In Mind. We choose projects and support programs that will have a lasting impact in the communities where we work. We've taken the time to forge long standing relationships in the countries where we work. Projects are always chosen with the people in Malawi instead of for them. We understand that we are visitors in their country and don't always know what communities need or how our ideas will work in a place that is so different from our own home. Our program works side by side with community leaders and local people in order to find out how we can help push forward their desire to rise to self reliance. Many communities in Malawi depend on foreign aid for all of their daily needs. WCIM wants to give those communities opportunities to stand on their own without the stress of depending on donors. This process can take years, but the slow progress can eventually lead entire communities out of poverty. WCIM has already started to see the differences our food program, gardens and Community Learning Center have in Malawi. Each year, we see progress and we see children in these communities getting involved in the process. More often than not the communities we serve already know what they need in order to move forward. They just lack the resources needed to make those things happen. This is where WCIM and our volunteers come in.
Each With Change In Mind trip has an element of adventure and plenty of opportunity for fun. Our activities vary from trip to trip, but just imagine an afternoon bocci ball tournament, a late night star gazing session around a camp fire, a safari that puts you face to face with some of Africa's most beautiful animals, kayaking on Lake Malawi and so much more! Our volunteers work hard in the communities that we serve, and the down time is spent reflecting, relaxing and having some fun!